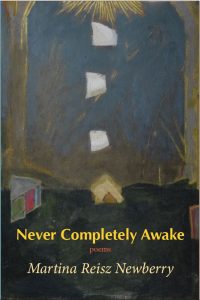 Never Completely Awake
Poems by Martina Newberry
ISBN: 978-0-9975051-5-3
6 x 9; 108 pages; price: $17.49
Available now
Praise for Never Completely Awake
These poems are driven by a passion both sexual and scriptural through configurations of surrender to instinctive logic and imaginative opportunities. Nothing is lost upon her. She treats each moment of each scene as her raison d'etre: Devotion to the project of creative language. The collection or series is endlessly interesting. She is an artist touched by brilliance, and her gifts simply refuse to be denied. I have been blessed in my exposure to her work, as I feel sure, you will be also. Poets, they say, are either born or made. Martina Reisz Newberry is both.
—Gerald Locklin, Poetry Editor: Chiron Review.
Martina Reisz Newberry's newest collection, Never Completely Awake , is nothing short of breathtaking. In poem after poem you find a generous spirit, a stunning acuity of image and vision, and, above all, her rare gift to wake us to a deeper circuitry that helps give our lives their necessary shape and substance. A truly superb collection, an absolute joy to read.
—Robert Hedin, author, translator, editor, founder of Red Wing Center for the Arts, Red Wing Minnesota
Martina Reisz Newberry may not be completely awake, but she is completely aware in these richly sensual poems. As she comes to terms with the aging of the physical body, her spirit waxes ever stronger and wiser in this mature collection. As she tells us, "It's really about…how much dark you can stand." But, there's plenty of understanding and enlightenment along the way. Self-reflective, quietly ironic, this poet constantly observes and attends. From the Hollywood Blvd. Wax Museum to the Burningman office, from the death of a brother to the loss of a lover, she leads us through different emotional landscapes, always grounded in beauty. Whether in a vision or a waking dream, she offers us both prayer and wind in the living, breathing world.
—Robin Scofield, author of Sunflower Cantos
Transfixed by the hourglass, yearning for continuance the voices invoked by Newberry quest after ways to transcend, to keep going. Here, struggle and surrender dance their inseparable tango. Those whose lives she bids us enter exist like storm-driven kites: dipping and rising, finding the heights, fearing the line will snap. Be it rainfall of needles, pack of greyhounds, or a woman attuned to her neighbor, Newberry summons from any and each of these the place where anguish and solace collide, and—if we're lucky— resolve. Hers is a universe freely dipped in various faiths, compelled to ask "how much dark you can stand," even as it offers refuge.
—Margot Farrington, author of Scanning for Tigers