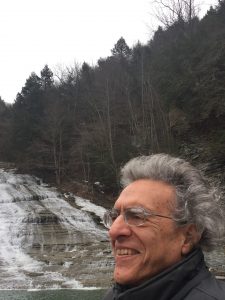 Found poetry is a type of poetry created by taking words, phrases, and sometimes whole passages from other sources and reframing them as poetry by making changes in spacing and lines, or by adding or deleting text, thus imparting new meaning.
J.R. Solonche should be noticed for his rendering of poems from unique sources. By finding unusual phrases and texts that are not literary per se, J.R. crosses a new threshold for discovering language and speech that connote multiple concepts of linguistic performance. This book is funny and absurd at times, creatively avant-garde.
Review of I Emily Dickinson & Other Found Poems
I, Emily Dickinson & Other Found Poems, by J.R. Solonche, is an absolute delight. I have read it more than three times. To do it justice, I'd want to quote liberally from the many priceless jewels—entries found in books, newspapers, field guides, menus, things read in bathrooms, overheard in museums—but I'm certainly not going to do that.
Often the pleasure in the found poem lies in the ridicule it carries, the smug joy of the reader in the crazy obtuseness of the anonymous source. Here this is hardly the case. Even Donald Rumsfeld's "Known knowns . . ." rises a bit above ridicule, it being probably the smartest thing he ever said.
The opening find is from the index of Dickinson's collected poems (Johnson). It lists alphabetically the first lines of poems that begin with "I," the first one being "I am afraid to own a body." These entries are arranged in quatrains, ending with a couplet. One hundred and forty-two lines later we read, "I years had been from home." This is more than a trick; it is something on the order of a portrait of Emily Dickinson.
The last entry in this wonderful collection lists vocabulary books on sale at Barnes & Noble, so the last line is "Word power made easy." Perfect.
—Sally Fisher
Sally Fisher's latest publication is Good Question, a book of poems from Bright Hill Press