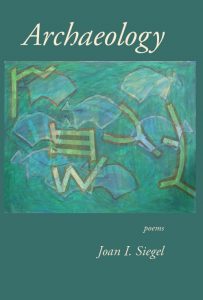 Archaeology
poetry by Joan I. Siegel
ISBN: 978-0-9975051-8-4
70 pages; 6 x 9 in. $16.95
available
only from this site
Author of three titles from Deerbrook Editions, ARCHAEOLOGY (2017), A PASSING (2015), and HYACINTH FOR THE SOUL (2009), Joan I. Siegel is recipient of the New Letters Poetry Award, The Anna Davidson Rosenberg Prize, The Poetry Quarterly Rebecca Lard Award, Atlanta's International Merit Award, and a finalist for the Pablo Neruda Prize. Her work has been published in several journals; The Bridge, Commonweal, Cumberland River Review, Cutthroat, Raritan, and others. A recipient of the State of New York Chancellor's Award for Excellence in Teaching, Siegel lives with her husband and daughter in the lower Hudson Valley of New York State.
Archaeology excavates the past in exquisite language. Its focus is family: Siegel's own family and families far ourtside her personal sphere. Mothers and daughters especially come under her perceptive eye, three generations often missing each other in passing, sitting in silence, but also knitting together to create a skein of connection. These are poems of longing, loss and celebration, for what else to do when losing someone, but "sit with her all night and sing"? Animals, domestic and wild, move through these poems, both as their own mystery as a metaphor. Siegel knows that stillness is necessary for transformation—"a chamber for one/ where you disolve and grow /wings." Though mostly serious and contemplative, she has moments of wry humanity and always "Peers at darkness through the bright eye of the world."
—Mary Makofske, author of Traction and World Enough and Time.
Whatever her subject matter, Siegel beckons the reader to explore the vast world of nature and the human heart.
—Ronald Spatz, Editor, Alaska Quarterly Review
Siegel knows how to go for the small specific details that illuminate even the darkest subjects.
—Maxine Kumin
The tactile, the visible and even the invisible become like avatars in Joan Siegel's poems.
—Diane Wakoski