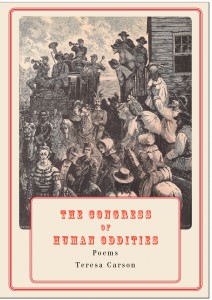 The Congress of Human Oddities poems by Teresa Carson
7 x 10; ISBN: 978-0-9904287-9-4
80 pages; $17.95
60 pages of poems, an introduction, and end notes, key the reader into the voices of these characters. You can only imagine what they might look like, with the help of a few cover images, in true nineteenth century romantic mystery, their words are the wavelength that transmute an existence, further perhaps an exercise in grasping the complexities of the Civil War era.
Special order button below
The Congress of Human Oddities presents yet another engrossing aspect of the American Civil War era. Welcome to the world of the traveling itinerant exhibition in which deformed, or unusual human "oddities" were put on public display. We are presented with the irony of yet another type of enslaved destiny and experience: those who live confined to the margins of the social community because fear, ignorance, and prejudice, while simultaneously exploited by public fascination and repulsion. Herein is an intricate narrative of interconnected character monologues in verse.
As the Civil War is waged in the distance, the Oddities endure brutal avarice, keen lust, corrosive jealousies, and complexly layered yearnings all mix with sly humor, wrenching heartache and dogged resilience despite cruel destinies and broken dreams. Each poem exists as an individual voice while contributing to the overall chronicle of murder, suicide, accidental death, adultery, evangelism, androgyny, and a most unusual pair of slaves who flee to freedom.
Fascinating personas speak through a poetic sensibility that grips one's attention from first page to last. Teresa Carson's verse enters the bloodstream and resonates with complex insights, a passionate empathy, and relentless investigation of motives of the human heart.
—Cassandra Medley
Professor of Playwriting
Sarah Lawrence College
Teresa Carson has created a remarkable gloss on the adage that a sucker is born every minute. Her poems, inspired by, among other things, the Shakespearean wellhead that nineteenth century America adored, cover a dazzling range of foibles, faiths, and sheer cash-driven cynicism. She goes deeper, however, into the various mysteries of the heart that defy what a first look recoils from or mocks. A true imaginative feat, this book carries the reader into a world of grotesqueries that resist any easy dismissal. What is now routinely televised in myriad versions was once shown in tents on a summer's evening. Part of Teresa Carson's insight is to make the reader feel how little has changed, how our gawking is endless.
—Baron Wormser
Set ironically against the backdrop of the Civil War in a town called Paradise, Congress of Human Oddities tells the story of a group of misfits who have created a home among other outcasts in their traveling sideshow, their differences a source of cohesion, rather than fracturing. But Carson is no idealist—this Paradise is full of blood and violence, sex and lust, money and power. As in her earlier books of poetry, she fearlessly investigates darker emotions and desires in the Congress of Human Oddities, making this historical tale completely relatable.
Like Edgar Lee Masters, Carson paints a picture of an entire social world in the Congress of Human Oddities through the monologues of vivid characters including an embittered former Shakespearean actor reduced to managing a freak show, a romantic boy with no arms, and a photographer's wife yearning for a new life. In giving voice to the voiceless, she has written a deeply humane and democratic book in the tradition of that most American poet, Walt Whitman, who appears briefly in the book as a nurse in the Civil War. As The Talker might say, "step right up and take a peek inside."
Mary Rizzo, Ph.D.
Assistant Professor of Professional Practice
Associate Director of Digital & Public Humanities Initiatives
American Studies and History
Rutgers University - Newark
Teresa Carson holds an MFA in Poetry and an MFA in Theatre, both from Sarah Lawrence College. Recently held positions: associate publisher at CavanKerry Press and the assistant director of the Frost Place Conference on Poetry and Teaching. She has lived in Hudson County, NJ, for her entire life—nowadays with her husband John in their crooked house in Union City.