Descent & Other Poems by Timothy Ogene is available now.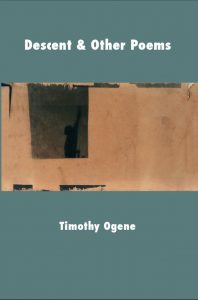 Read what Felicity Plunkett says about his work.
Timothy Ogene's poems are writings of witness, displacement and beauty. Instead of a home address there are poems as address, at once exquisitely gentle and acute. The sharpness of the poems' blades—whether literal, like the blades that peel cassavas and leave the speaker's arms scarred, or deeper injuries of trauma and loss—sits alongside their subtlety and tenderness. These are poems of deep attentiveness to the smallest encounters, and to the largest questions of love, doubt, solitude and migration. Their crafting reveals Ogene's deep reading, both of poetry and of the landscapes the poems explore. How do poems that bear witness to violence, loss and displacement open so gently to the reader? This paradox is one of many in these wise, important poems. I am reminded of Hélène Cixous's description of Paul Celan's poetry as 'writing that speaks of and through disaster such that disaster and desert become author or spring'. Where trees hold 'time in absent leaves', these poems mourn roots but refrain from 'easy paths', offering, instead, the force and grace of a numinous poetics.
—Felicity Plunkett
Read what Ruth Lepson says about his work:
Where did he come from, Timothy Ogene? From Nigeria, from even poorer Liberia, from Texas, from Oxford, now Boston. But look for him in the future, where he will be writing great books. Look for him in the present, too, in this satisfying, wonderful book—already he can do everything—he makes music, his figurative language is rare in that it seems deep and never arbitrary, there is a care for especially the poor people and objects of this world, he remains hidden behind his language yet clear, which is to say his ego does not control the writing, something else does—a desire to lead us gently to noticing what we have never seen before. Not just noticing, experiencing. Suddenly an empty bench comes to the forefront of our sight, from the "remains" of fog. He can personify without anthropomorphizing, maybe because he loves the world without needing to hold on to any aspect of it. He is unusually free yet aware of the limitations imposed on us politically and yes by language itself.
—Ruth Lepson
Check out Timothy's work on Numero Cinq Magazine