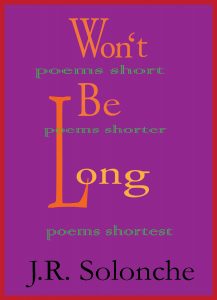 Won't Be Long
Poems Short, Poems Shorter, Poems Shortest
by Solonche, J. R.
ISBN: 978-0-9975051-3-9
Paperback 5 x 7; 182 pages
$18.00
A progression in verse by way of decreasing duration ie. length of lines and numbers of words -while the purport remains provocative, humorous, poignantly astute.
Michael Meyerhofer praise for Won't Be Long: "Sweet Jesus, this is great stuff!"
Four-time Pushcart Prize nominee as well as Best of the Net nominee, J.R. Solonche, Professor Emeritus of English at the State University of New York- Orange County, has been publishing poetry in magazines, journals, and anthologies since the early 70s.