Jeff's background includes:
Undergraduate study at RISD (BFA 1974) exploring painting, sculpture, printmaking, and film of the 30s & 40s.
Graduate study at The University of AL GSLS in book art and library science; as a teacher and curator in the Library School, as well as printing in the art department, and classes in the graduate writing dept.
Primarily Jeff was working with R.G. Rummonds of the Plain Wrapper Press to implement the beginning of the MFA program in Book Arts, making limited edition books for the school Parallel Editions imprint, and teaching book binding classes for credit or assisting visiting instructors during seminars.
Many fine printers, binders and other book artists came to teach their craft in paper decoration, book binding, paper making, typography, etc. In core MLS classes Jeff studied descriptive bibliography, the history of printing and publishing, and book design, design being taught by Gabriel Rummonds. Rummonds passed on his experience designing for Knopf and printing fine limited editions on the iron hand press, much of what he learned from Giovanni Mardersteig (Officina Bodoni) while printing for twelve years in italy at Plain Wrapper Press.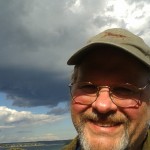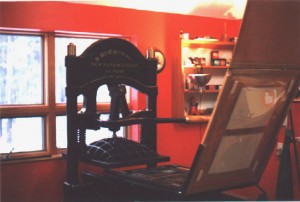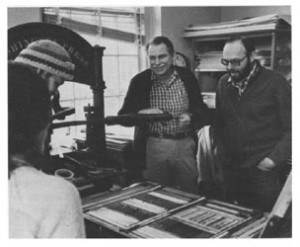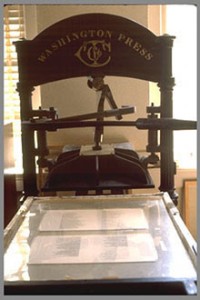 Printing in Alabama on the Cincinnati Washington.