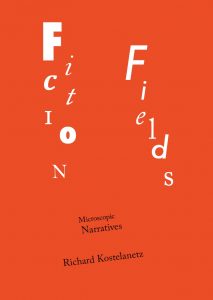 Richard Kostelanetz's FictionFields: Microscopic Narratives, is a completely new rendition of a form that he has done before. The typography presented in this project, using many typefaces and styles, creates an entirely new experience for new and existing readers of Richard's work. The pages themselves breath between static-linear and spiraling-shifting shapes, but each word or group of words (no more than three) stands alone, with unique stories and a separate set of stimuli to the imagination, "bestowing conceptional resonances the words wouldn't otherwise have."
A prolific and venerated artist, Richard Kostelanetz is a figurehead, writer, artist, critic, and editor, all of which he does prolifically with his unique sense of the avant-garde. He is one of a few creatives who have refused to impose their biographies on the work itself, who chose to let the work stand-alone as objects, disconnected from the author's own experience. Art, or literature for that matter, as Richard would say, must be left to interact with the world on its own terms, and should be recognized by itself. This idea is more evident in this new work, which is now available here on our website.
Read some pages from Kostelantez Soho: The Rise and Fall of an Artists' Colony, for a little New York history.