Dennis Camire launched his book at a wonderful reading event at the Curtis Memorial Library in Brunswick, Maine on Sunday, the 26th of February.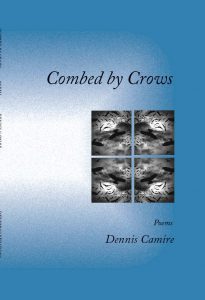 To apply Dennis Camire's own words to himself, he is indeed a "birder of words" working at "altruism's altitude." If all poetry implies a vision, what the poems in Combed by Crows see is how important beauty is in a broken world—beauty and compassion—how they can be found almost anywhere, in the autistic boy trying to get a date, in giant pumpkins and lowly earthworms, in our language itself, from the letters of the alphabet to the many names of fishing lures. Camire sees and celebrates it all, not denying our wounds, but finding in them the source of love. These poems become models of attention and curiosity, gratitude and a full-hearted embrace of experience. T he images are vivid and compelling, the syntax becomes a river, carrying us through an amazing series of verbal rapids without once tipping us over. I love this book. It's like the donated organs described in one poem, giving our tired cynical minds a transplant of marvel and wonder.
—Betsy Sholl, Former Maine Poet Laureate
Some Words on Birds and Borders
Let's praise all the world's birds
Unconcerned with shots and passports
As they cross disputed borders
Then refuse to seek permission to
Land on the river's moonlit landing strip.
And let's sing of those crazy, Canada geese
Violating North American Trade agreements
As their bellies import unknown grains
And they don't stop for the bombsniffing dogs.
And see how no winged being heeds
A "no fly zone" between warring counties
Where one private notes "soldiers
Turning intobirders as they lordover
The no man's land" where grouse seek spouses
Along the mine-laced gravel roads
And falcons let their young fly over
The steel trees of anti-aircraft artillery.
And Imagine, now, the seeds of peace sown
By the peacock caught between cross-fire
Or by the mother cardinal spied nesting over
The killing fields; and you—birder of words—
Unsure if you can fly into this altruism's altitude
Where flocks of hopeful thoughts are flushed
From the single thrush admired through
The sniper's scope, when did the B-52 of blue heron
Ever fail to drop, into river or pond,
Anything but it's body's beautiful bomb?

His book Combed by Crows is now available here, until officially published later this month, when it will be available also on amazon, and eventually from our distributor. Please consider this: when you buy books from a small press not only are you supporting the work of the press but you are supporting the author because that much more of the purchase goes to the author, whereas when you buy a book bought on amazon, 55% goes to amazon.